Recipes
Here at Sunshine Organics we like to keep things as simple as possible. It is from this intention that our Recipes page was born. Our objective is to keep it simple for you whilst also satisfying the family. So if you are starting to hear; ' Not that again Mum or Dad' then it is time to turn to our Recipes page. Each week nutritious, easy, family friendly recipes will be added to our page. All you have to do is add the ingredients you need to your cart from the carousel below. It couldn't be simpler!
We have also teamed up with our beautiful friends at Organic Sisters to share some of their fabulous nourishing recipes for all of us to enjoy. We would also love to hear from you if you have a family favourite you would like to share for all of us to appreciate. Just email us at hello@sunshineorganics.com.au and we will send you a thank you voucher for your to use at your next shop for your generosity. The more love we share around the better!
Recipes will be archived onto our Blog page Love Organics each week for you to access again with ease.
Enjoy!
Roasted Yacon with Feta, Chilli & Lime
A fresh and vibrant salad using sweet chunks of roasted yacon topped with green rocket leaves, crumbles of feat and tangy lime dressing.
Ingredients
500g Yacon
1 clove garlic
1 Lime
1 Chilli
50g Rocket
100g Feta if you are dairy intolerant try our new Summerland Camel Persian Feta
Sea salt & ground black pepper
2 Tbls Virgin Olive Oil
Method
1.Preheat your oven to 200C/Fan 180C/Gas 6. Scrub the yacon and peel. Cut them into batons about the thickness of your finger and scatter onto a large roasting tin. Toss with 1 tbsp oil and a pinch of salt and pepper. Slide the yacon into the oven and roast for 30-35 mins, turning halfway, till tender in the middle at the edges.
2.While the yacon is roasting, peel the garlic clove and finely grate it into a bowl. Grate in the lime zest and squeeze in the juice. Whisk in 1 tbsp oil and a little salt and pepper to form a dressing.
3.Slice the chilli thinly on the angle.
4.Transfer the cooked yacon onto plates. Scatter the rocket leaves over the top. Add crumbles of feta and slices of chilli to taste. Finish by spooning over the lime dressing.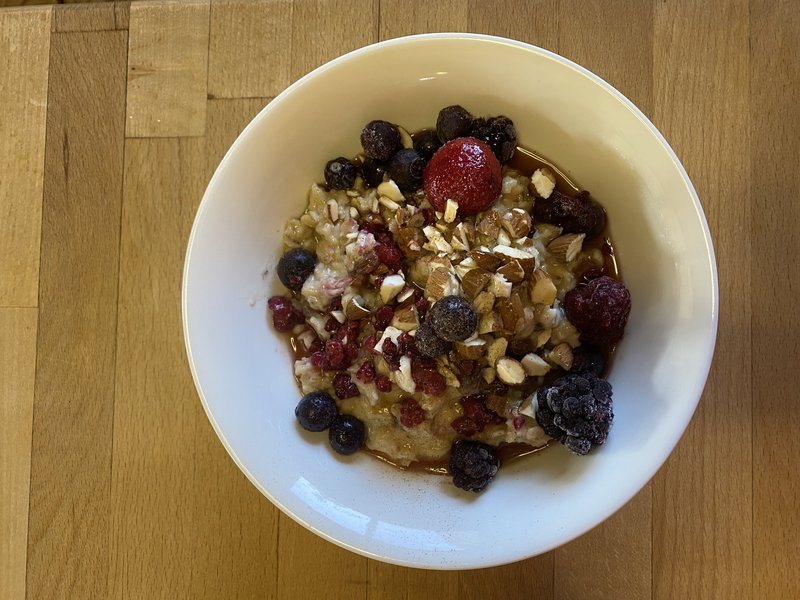 Breakfast Ideas;
A quick breakfast when you are on the run is always appreciated. These oats can be eaten hot or cold. My grandparents used to prepare these for me long ago. Always a favourite with lots of options for your topping -whatever you feel like on the morning.
Oats on the go
These oats can be made just before or up to a couple of days prior to consuming. My son loves these as a quick afternoon snack before sport. You will need;
An airtight container preferably glass better for the earth.

Use oast or alternate oats as a base – rolled oats, or alternatives such as quinoa or rice flakes

Add all fresh ingredients on the morning as they tend to reduce the longevity of your oats.
Now, make the base:
1/2 cup organic oats of choice or alternate oats

1/2 cup milk of choice can be organic dairy or non-dairy milks or organic plant-based alternatives)

1/4 cup organic yoghurt (greek, almond or coconut yoghurt)

1 tbs pure maple syrup, honey or sweetener of choice

1 tbs organic chia seeds

1/4 tsp organic vanilla extract
Put all the ingredients in the container and stir, put in the fridge for up to 3 days. Straight from the fridge is a great summer option or you can heat in winter for a tummy warmer.
Topping ideas:
Fresh berries and yoghurt drizzled with honey or maple and nuts

Sliced banana, cacao chips and crushed nuts

Stewed apples with cinnamon and almonds

Mango, yoghurt and shredded coconut
To save time in the morning you can store your toppings in separate containers and add just prior to eating.
Paleo Anzac Biscuit
With gratitude & thanks to Theresa Cutter -from her book Health Baking
Ingredients:
Makes 22 biscuits
100g/1 cup of almond meal
100g 1 cup of almond flakes
75 g/ ¾ cup of dessicated coconut
90g/1/4 cup of raw honey or 80g/1/4 cup of maple syrup
60 ml/1/4 cup macadamia oil or extra virgin olive oil
½ tsp baking soda
1-2 tbls water
Method:
Preheat you oven to 120°C (fan-forced (250°F)
Combine almond meal, flaked almonds & coconut in a bowl.
Mix the baking soda and water then pour into a honey pot and mix until it starts to froth.
Pour the wet nix into the dry nut ingredients and mix through until combined. Add a little water if needed to help them stick together.
Form into 22 biscuits on a lined baking tray using a small spoon or ice cream scoop.
Bake for about 30 minutes util golden.
Enjoy!
Buckwheat Banana Bread - shared by Organic Sisters
Big thank you's to Organic Sisters for our first fabulous lunchbox recipe - the ever reliable Buckwheat Banana Bread. This recipe is gluten free and dairy free. Always a favourite for lunchboxes or just to have on hand Tip: Make a double batch and freeze one for next week.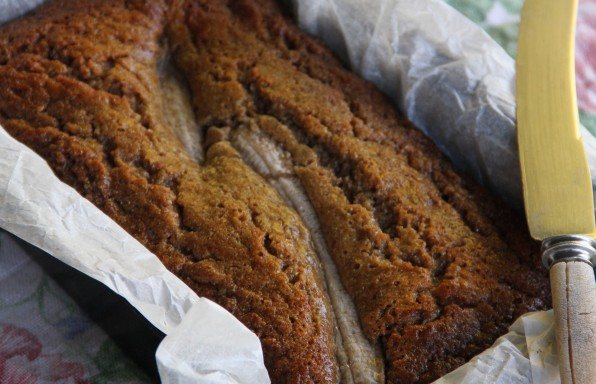 Ingredients
1 cup of buckwheat flour
A pinch of sea salt
1/2 teaspoon of cinnamon powder
1 1/2 teaspoons of gluten-free baking powder
1/2 cup of raw honey
1 cup of mashed banana
3 organic free range eggs
1/4 cup of milk (any type of milk is fine)
1 extra banana (optional for decorating top of bread)
Directions
Preheat the oven to 180 degrees C and line a loaf tin with baking paper.
Place the buckwheat flour, salt, cinnamon and baking powder into a large bowl and combine together well with a spoon/whisk.
Add in the honey, mashed banana, eggs and milk. Stir until well combined.
Pour the mixture into the lined loaf tin. Cut a whole banana in half length-ways and place the two pieces on top of the mixture.
Bake for approximately 45 minutes or until golden on top and cooked through.
Zucchini Fritters - from our resident Nutritionist - Sarah Lees-Barton
An easy family favourite perfect for dinner, lunch or lunchboxes.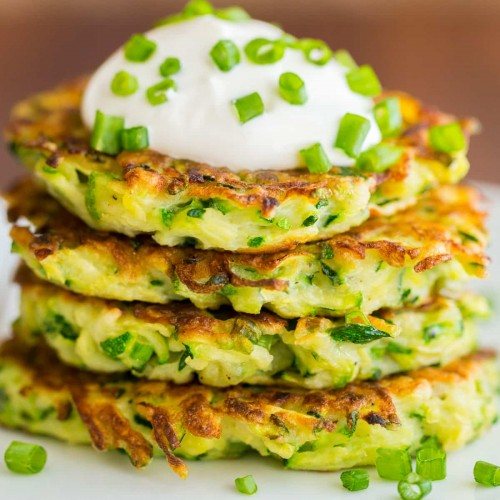 Ingredients:
4 large zucchinis, grated
3 eggs
1 cup Self Raising flour or can be gluten free flour
Salt & pepper to taste
½ cup of grated parmesan – optional
Oil for shallow frying
You could also add corn kernels, parsley, chopped coriander or grated carrot.
Method:
Mix all the ingredients together so that it forms a thick sticky batter (if necessary add more flour or another egg dependent upon what else you have added in) The mixture should be thick but still drop off the spoon.
Heat the oil in a pan on medium heat. Drop a tablespoon of batter into the hot oil. Turn when the first side is browned. Cook the fritter right through as the batter can be quite thick.
Naked Chocolate Cake - Here is one for the kids to enjoy!
Ingredients:
½ cup of raw chocolate or good quality cacao
½ cup of organic coconut flour
21/2 tsp of gluten free baking powder
½ tsp ground cinnamon
Pinch of sea salt
6 free range eggs
½ cup of raw honey or organic maple syrup
½ cup of olive oil
½ organic coconut milk
1 tsp vanilla paste
Method:
Preheat oven to 160 degrees Celsius
Combine the cacao, coconut flour, baking powder, cinnamon and sea salt into a mixing bowl.
Add the eggs, honey, vanilla, coconut milk and olive oil.
Mix well until smooth and combined – a whisk works really well for this.
Pour into a 20 cm baking tin lined with baking paper.
Bake for 55 – 60 minutes or until cooked through. Best to test after 45 minutes.
Remove from the oven and cool
Spread with ganache or healthy cacao mouse or whipped coconut yoghurt and enjoy!